About Adventure Bus
Mission Statement: To provide high quality, innovative, enjoyable programs that enrich children in their movement education; to exemplify and facilitate the development of positive patterns and attitudes towards fitness, health and well-being that persist over the course of a lifetime
The Adventure Bus is a full sized school bus that has been converted into a mini gym - brought directly to your location.
All activities take place inside the Adventure Bus and no transportation of participants is involved. The Bus is equipped with a large variety of FUN equipment including: zip line, monkey bars, rock climbing wall, mini-trampoline, rings, bean bags, ribbons, climbing rope, balance beam, mats, shapes, parachutes, tunnels, hoops, etc.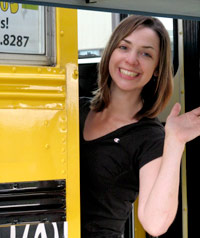 Debbie Brown
Owner / Program Director
Debbie has an extensive background in Physical Education, Adaptive Programming & Rehabilitation. An active member of the NCCP (National Coaching Certification Program) and the IYCA (International Youth Conditioning Association), she brings over 25 years of coaching experience to Adventure Bus, primarily with gymnastics, trampoline, soccer and Paralympic sports. She has participated in sport at the NCAA/College level and has worked with a variety of ability levels and age groups from beginners to elite, tots to seniors, participants and coaches.
For more information on Debbie Brown, check out her Page from Womanition Magazine!
We have an exceptional team here at Adventure Bus!
Our enthusiastic and knowledgeable instructors are from a variety of related backgrounds and are fantastic with children!!
Adventure Bus is growing!
We are seeking outstanding, enthusiastic and dependable individuals to join our dynamic team. We are hiring people who wish to work as little as one day per week, weekdays, weekends or occasional events. Training will be provided.